Their origin is unknown but many say that they're from the ancient Abyssinia. 
Appearance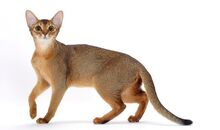 Abyssinians are a well known cat breed and have a sleek impression. Most are hazelnut and have large eyes. They come in several colors: Cream, Ruddy, Red, Chocolate, Blue, Lilac, Cinnamon, Blue Cream and Fawn. 
Behavior
Abyssinians are known for not being good when it comes to handling and carrying. They are very excited and active.