Appearance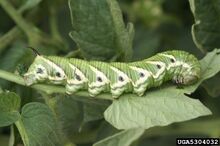 A lime green caterpillar that has a horn on its abdomen, they have many names like the manducca or the tomato hornworm.
Behaviors
They eat... A LOT! They are caterpillars so they must gather fuel for their cocoon stage. They crawl around the enclosure and nibble on things.
Supplies
A jar
A caterpillar
LOTS OF TOMATOES, TOMATO PLANTS, CATERPILLAR FEED OR TOBACCO PLANTS. THESE CATERPILLARS EAT A LOT!!!!!